Arabic Coins, How to Read Them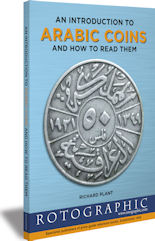 Winner of the Royal Numismatic Society's Lhotka Memorial Prize, 1975.
Title: "Arabic Coins and How to Read Them, An Introduction to:"
Author: Richard Plant
ISBN: 978-0-948964-13-8. Retail price: £19.95 (approx US$34.00)
ISBN (eBook version): 978-0-901170-26-2. Retail price: approx £7.00 (US$12.00)
Trouble finding a stockist: Call Rotographic direct on 020 308 69996
Review: Peter says: "Non-western scripts are a challenge to western coin collectors. Plant challenges you to learn Arabic script with short, to the point chapters followed by amusing exercises (solutions in the back of the book). Those who are only interested in modern coins can just take chapters 1 to 8 and 23 to 26. Plant is not just knowledgeable about Arabic, but also about coins".
Out of print for 14 years, with original older copies selling for quite a lot, this is an essential book for collectors of Eastern coins and for people who want to learn to decipher the Arabic featured on coins.