British Military Money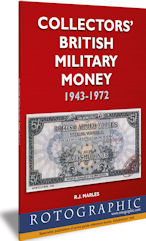 Title: "Collectors' British Military Money 1943 – 1972"
ISBN (printed version): 978-0-948964-49-7. Retail price: £6.95 (approx US$11.75)
ISBN (eBook version): 978-0-901170-31-6. Retail price: between £3.50 – £4.00 (US$7.00)
Purchase eBook:


Trouble finding a stockist: Call Rotographic direct on 020 308 69996
Author: R J Marles
Publication date: 2007 (2nd edition), newly type-set and re-printed in June 2014.
Review: According to Mr Crossgrill it is: "A must have reference for collectors of British Military Money, very helpful and clearly written".
This book has been newly type-set, re-printed and is dedicated to the memory of Rotographic founder R J Marles. Half the profits from the sales of this book go to Mr Marles chosen charity, the RNLI in Torbay, close to where he lived.
Please note that the printed version has black and white images and that the eBook version is nearly full colour (just a few images are black and white as they were not available in colour)!
Collectors' British Military Money 1943 – 1972 contains price data for all British Military Authority, Military Authority of Tripolitania and British Armed Forces notes (vouchers) and tokens from the occupied territories of World War II, up to the last 1972 issue of decimal British Armed Forces notes in 1972. The eBook version is about 75% colour (some images could only be obtained in black and white) and the printed version is printed in black and white only.
See a few pages. (PDF, 1mb)