British Campaign Medals 1899-2009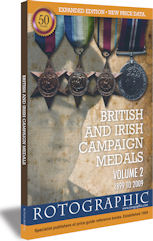 Title: "British & Irish Campaign Medals 1899 – 2009" (volume 2)
ISBN: 978-0-948964-44-2. Retail price: £7.95 (approx US$12.75)
ISBN (eBook version): 978-0-901170-11-8. Retail price: between £3.50 – £4.00 (US$7.00)
Purchase eBook:


Trouble finding a stockist: Call Rotographic direct on 020 308 69996
Author: Stephen Philip Perkins
Publication date: October 2009 (2nd edition)
Review: "I bought this book as I've just started getting interested in campaign medals after researching my family history. I'm by no means an expert and wanted a guide that wouldn't be too stuffy or difficult for a novice like myself to follow! This is a very well thought out guide with full colour pictures and informative text, not only about the medals but also the campaigns themselves. I've learnt so much from this wonderful book…It really is fantastic value for money, highly recommended!"
This new volume (volume 2 of the 2 books in the campaign medal series) contains 160 pages packed, in chronological order, with information about the military campaigns in which British and Irish citizens have taken part in from the 2nd Boer war to the Iraq conflict. The sections on each medal includes details of why it was issued, and its current market value.
See a page illustration. (from previous 2006 edition)
Here are some of the key features of this book:
Full colour inside with many full page size images.
Thick glossy card cover with quality, slightly glossy, thick paper used for the pages.
UN and NATO medals also covered.
Irish Republic Medals covered from the Easter uprising onwards.
Prices for miniature medals.
This was the first full colour Rotographic publication, and what better way to introduce full colour than in a book on medals, each with a bright and uniquely coloured ribbon!
Over the last few years, interest in all Campaign Medals has increased and prices have been on an upward trend. Time rolls on, as it inevitably does, and it's sad to reflect that within the next 5-10 years, WWI will probably fade from living memory forever. The memory of the men (and women) that were involved in the Great War lives on through their medals, as do the memories of all the other millions of men and women that were involved in all the other conflicts in the past century and a bit.
Learn about those conflicts and the array of medals that were awarded, in this all new Rotographic publication.