M J Freeman, The Bronze Coinage of Great Britain
ISBN (printed version): 978-0-948964-84-8. Retail price: £14.00  (approx US$19.50).
ISBN (eBook version): TBC. Retail price: £6.00/ approx US$8.35.
Publication date: 14th June 2016 (printed), TBC (eBook).
Trouble finding a stockist: Call Rotographic direct on 020 308 69996
Probably the most important and most referenced book on British bronze coinage (the pennies, half pennies and farthings of 1860 – 1970). It's numbering system, which is often abbreviated simply with an 'F' prefix, is used all over the world by sellers of British bronze coins, including all the major international auction houses and all reputable dealers, to distinguish one 'Freeman' variety from other similar coins.
80% new images in the main section.
New appendix with over 100 newly discovered coins.
Larger B5 format.
This is a reprint of the most recent edition, in paper back form for the first time and with the added bonus of a new appendix containing over 100 coins that were not included in the last edition (the first ever update to the information for more than 30 years) and in the main section over 80% of the images have been replaced with better quality, new images. Where there is new information, the main text contains references to the new appendix. This new book is also larger than previous versions, in an attempt to further improve the quality of the images.
A couple of page spread illustrations (low resolution):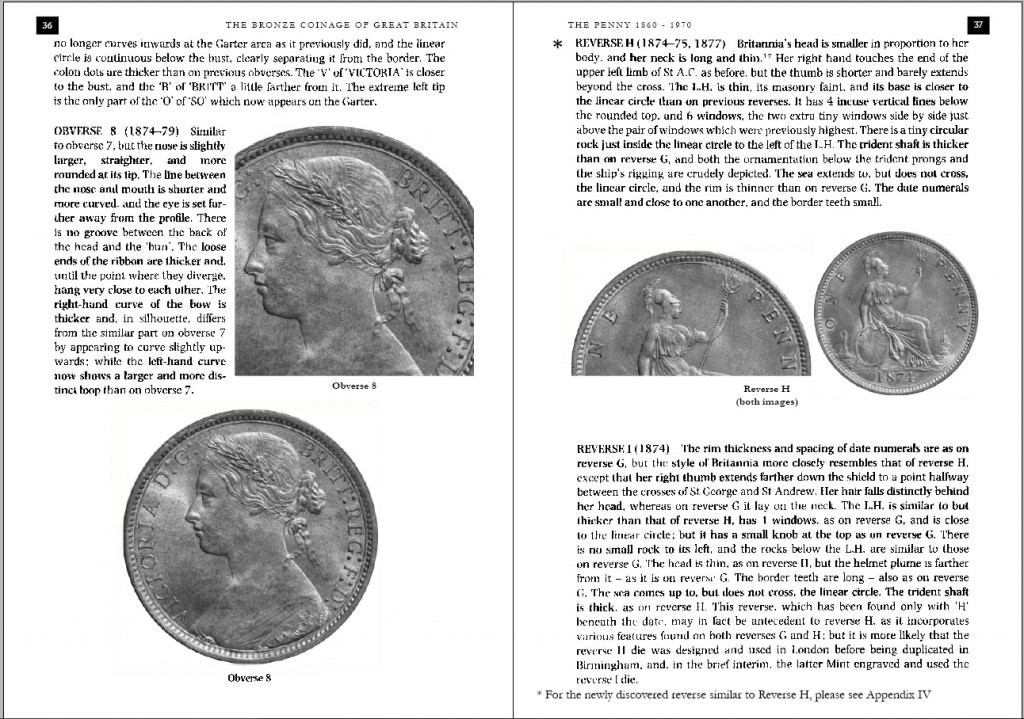 Above: Pages 36 and 37 showing bun head pennies, obverse 8 and reverses H and I.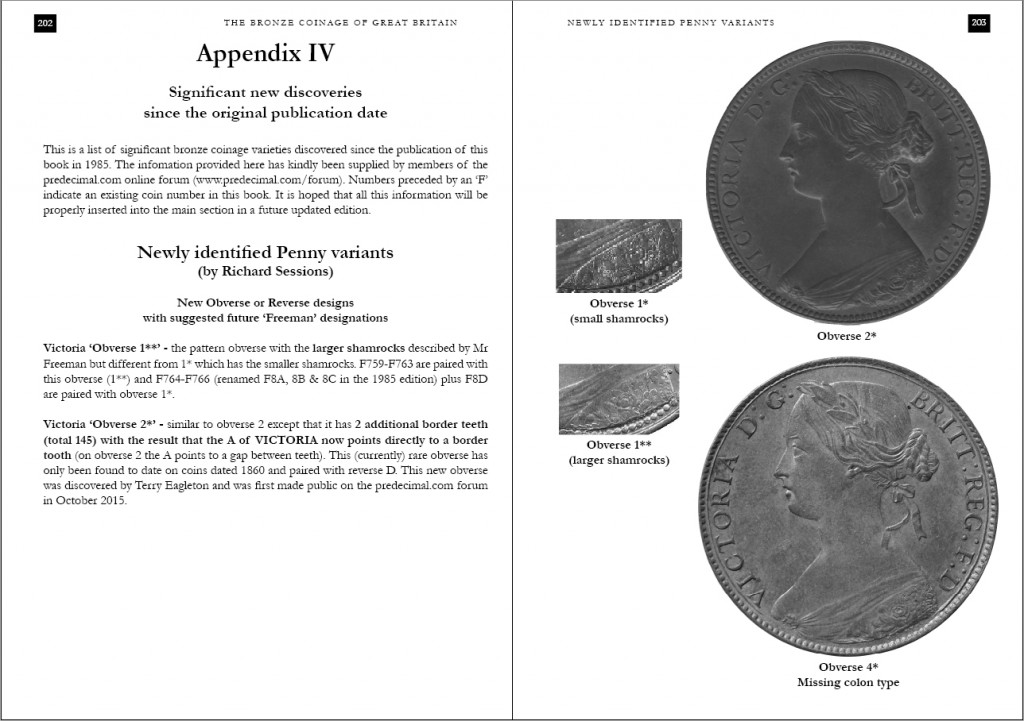 Above: Pages 202 and 203, the introduction to the new appendix.
In this book Mr Freeman articulately describes the differences between the obverse and reverse types of the subject matter. Where relevant there are tables of the possible combinations of reverses and obverses, often many combinations even for a single date and each coin is assigned a rarity estimate. Proofs in bronze and other metals are also listed. Major variants caused by alterations to the dies, including changes to the date punches and major overstrikes resulting in letters/digits appearing to be struck on other letters or digits are also covered.
Over 1000 different coins are listed, including patterns (both official and unofficial). Decimal coins have been removed from this edition (they were only previously covered from 1971 to 1983) and there are no values in this book, it is solely concerned with the varieties of bronze coinage. Each coin type in the main section and some of those in the new appendix are, as mentioned above, assigned an estimated rarity on a 41 point scale from 'believed unique' to many millions made.
Cover design (click for larger version):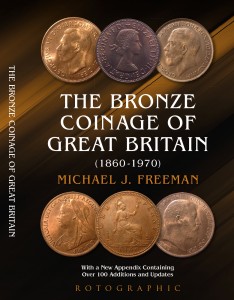 "Since selling my collection in the 1980s, I have not been involved with bronze coins, and I am impressed with this new edition, in which I have played no part. Praise must go to those who have spotted the many significant newly-discovered varieties listed here, and, most of all, to Chris Perkins, without whom they would not have been collated and made accessible to collectors and students of British bronze coins.
He can be proud of this.
– Michael Freeman, April 2016."