Collectors' Coins Decimal (UK)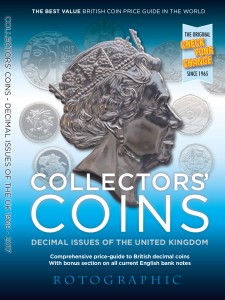 BEST SELLER – This title has it's own website, a massive fan following, it's own Facebook group and an Android app!
For more on decimals see www.checkyourchange.co.uk, the website set up to support decimal collectors.
The Check Your Change Decimal group on Facebook: https://www.facebook.com/groups/425496827611624/
ISBN: 978-0-948964-88-6. Retail price: £8.75 (approx US$11.00)
eBook version: Retail price: between £3.50 – £4.00 (approx US$7.00)
Purchase eBook:


Author: Christopher Henry Perkins
Publication date (printed version): March 15th 2017.
Trouble finding a stockist: Call Rotographic direct on 020 308 69996
Review: Mr Jones says: "If you are into collecting coins then do yourself a favour and get this book. Out of all the coin books I have this is the one I refer to the most as I think it has the most realistic prices in it, and for the price it is then it is a no brainer and it will pay itself back several times over…. ".
Formerly "Check Your Change" and published in modern form in 2007, 2008 and 2010. Re-named now and known as "Collectors' Coins Decimal" for short. It's Britain's standard guide to circulating coins, including gold and silver commemorative proof coins, sovereign based gold coins, Maundy money, Britannias etc.
A comprehensive listing and price-guide to UK decimal coins, covering all normal, commemorative and proof (including gold and silver) issues from 1968 and inclusive of the 2017 early issues right up to the new £1 coin.
Some low resolution pages images.
The latest edition of the most popular book on British money, ever!
Essential guide for all decimal collectors.
Real current market values, including those that are collectable in used condition!
The facts behind the dateless error 20p and the Kew Gardens 50p
Every single decimal British currency coin type including all commemorative coins is illustrated at actual size and in full colour.
The 2p worth £900 and the 50p worth £1,000. Both are incredibly rare. This book puts things straight.
Mintage numbers by date.
Every single coin value has been checked and amended where necessary.
Summaries of each coin type, including accurate weights and sizes.
Newly reported varieties have been listed.
During the 60s and early 70s "Check Your Change" sold 1.75 million copies, making it the biggest selling book about coins ever. Forty-seven years later and there are now some decimal coins that are considerably scarcer than others. Rumours about rare British coins frequently circulate and occasionally public hype and word of mouth creates false or misleading information. This book puts it all straight and reveals the true modern British coinage rarities. Honest and down to earth.
Every British decimal coin is illustrated in full colour and at actual size, so it's an excellent companion to any members of the public, people with a passing interest or serious collectors that want to try to obtain a representative collection of British decimal coinage.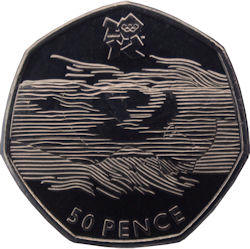 The withdrawn 2011 Olympics Aquatics coin with lines on the swimmers' face.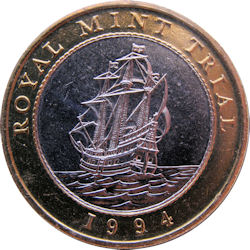 A 1994 bi-metallic Royal Mint Trial £2 coin.
The 2005 End of WWII £2 coin. The Silver proof version of this coins exists with the wrong edge lettering!