The Coin Colouring Book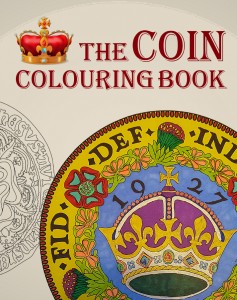 COMING IN OCTOBER 2017
Title: "The Coin Colouring Book" (1st edition, paperback)
ISBN: 978-0-948964-89-3. Retail price: £6.99 (approx US$9.20)
40 large pages containing 36 drawings of coins to colour in.
Not available as an eBook, you have to physically colour it in!
Trouble finding a stockist: Call Rotographic direct on 020 308 69996
The worlds first coin colouring book.
Historically coins have always been very lacking in colour, being made of a single piece of metal. The things they depict though; the faces, plants, heraldry, swords, ships, crowns, horses etc, are all actually very colourful in real life. Coins are therefore the ideal candidate to add colour to. Use this book to create realistic life-like coloured works of art, or go wild with them and colour them in your own fantastic style. Most of them have been waiting for centuries just for you to add a bit of colour!
Containing some basic coin images, some intermediate and also some very intricate ones. Each coin is accompanied by a short paragraph of information.
Coin images included (a couple of page-spread images below):
King Tasciovanus, Celtic Stater (both sides)
King William I, Penny (both sides)
King Edward IV, Ryal (both sides)
King Henry VII, Sovereign (both sides)
King Edward VI, Crown (both sides)
Queen Mary, Sovereign (both sides)
Queen Mary and Philip, Shilling (both sides)
Elizabeth I, Sixpence (both sides)
Elizabeth I, Crown (both sides)
James I, Rose-Ryal (both sides)
Charles I, Triple Unite (both sides)
Charles I, Crown (both sides)
King William & Queen Mary, Two Guineas (both sides)
Queen Anne, Five Guineas (both sides)
Queen Victoria, Gothic Crown (both sides)
King Edward VII, Florin (reverse)
King George V, Wreath Crown (reverse)
King George V, Shilling (reverse)
King George VI, Halfpenny (reverse)
Queen Elizabeth II, Kew Gardens 50p (reverse)
Queen Elizabeth II, New Pound Coin (reverse)
Some low resolution page spreads: