About+Contact
(full contact details at the bottom)
Who are Rotographic?
Rotographic are a small family owned publishing company based in London and Saxony, Germany. We produce a range of quality price-guide and reference books, mainly on subjects relating to coins and other collectibles, including medals and banknotes. Most of the books are paperbacks and priced under £10.00. We also publish a couple of beautifully produced hardbacks. All of the current Rotographic range are available as eBooks (with the exception of The Coin Colouring Book).
The History of Rotographic
Rotographic was formed in 1959 by Richard John Marles (1925-2013) in Torquay, Devon. Initially, equipped with printing machinery, they took on local print jobs and were also known as Belgravia Press, after the Belgravia Hotel, which at the time was owned by Mr Marles' parents. The name 'Rotographic' was contrived from the words 'Rotogravure' and 'Lithographic', names of two prevalent printing techniques at the time. In the mid 1960's Mr Marles decided to exploit the huge sudden interest in coin collecting, which was in the main, due to the forthcoming demise of the £SD pre-decimal coinage system. At that time Mr Marles also appeared on numismatic radio phone-ins and was involved in the coin dealing industry.
Before decimalisation, (when it was possible to find coins dating back to 1816 in your change) Rotographic, with Mr Marles at the helm, produced a number of price-guide reference books, including the very popular little booklet: 'Check your Change', which was produced from 1965 to 1970 and sold over between 1.75 and 2 million copies (exact figures not available) by the time decimalisation took place. During the 1960's it was commonplace to see people in all kinds of shops doing exactly what the title suggested, flicking through their copy in order to check their change.
When decimalisation happened in 1971, the older coins practically disappeared from circulation. All of a sudden "Check your Change" stopped being sold weekly by the 1000's, and orders for it slowed down drastically. Not deterred by this, a year later in 1972, Rotographic introduced the first edition of "Collectors' Coins England" (still in print as "Collectors' Coins Great Britain"), which contained value listings, variety information etc for all British coins, just like its predecessor "Check your Change", but this time with a much wider date range of 1760 – 1972. With the success of the new title, Rotographic were able to expand the range of titles and during the 1980's and early 1990's the Collectors' Coins Ireland, Collectors' Banknotes and several other new titles were added to the repertoire. Rotograpic books were the first to list coins by date, rather than by reign – something which has been copied by others over the years. Rotographic were also the first to include details of a lot of important varieties, most of which continue to be left out by other publishers.
Throughout the late 1990's into the early 21st Century the volume of sales was steady and many of the titles were renewed annually or bi-annually. In 2004 Mr Marles decided it was probably about time he retired from full time publishing and printing, aged 78, and sold the names and rights to me, Chris Perkins (I run the British Coin website – www.predecimal.com).
Richard Marles sadly passed away in 2013, but had made it clear to me that he was happy with the direction and that he very much liked the new titles, all of which were automatically posted to him upon completion.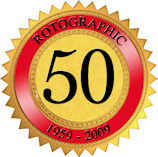 The Present and Future of Rotographic
Between October 2004 and November 2017 I have published forty new Rotographic books. Of those, many have been new updated editions of established titles. Eight have been completely new titles. There are currently fourteen books in print and three new books in the pipeline.
My long term aim is no doubt a very basic one for any publisher – to have as many useful titles in print as possible. I'd like the range to consist of at least fifteen by the end of 2018.
Rotographic is embracing new technology and is more interactive than ever before, too. From 2013 the range of books was made available as eBooks, both in .mobi format for Amazon Kindle devices and in .epub format for most other eBook readers, which is another first for UK published numismatic titles.
As of 2017 the biggest selling book also has a popular app (currently for Android and coming soon for Apple devices) called 'Check Your Change' which consists of a very useable and visual way to keep track of your collection of UK decimal coins for free, or, for a small fee, adds over 1,100 valuations for coins in 'used' and 'as new' condition. The beauty of the app is that valuation data can be kept up to date by simply rolling out an update. The app is available on Google Play, here.
Philosophy
The main titles sell very well, but it's never really been all about profit and sales. My aim is to spread and share knowledge on coins and related subjects. To enable collectors of all ages to easily obtain honest and correct information on coins, medals, banknotes and other collectables. If I can inspire one youngster in the same way that my first Rotographic book inspired me as an 11 year old in 1989, then that to me would be more rewarding than sales volume alone! In this post internet-revolution world there are so many people out to take advantage of inexperience and so many for whom profit is the only motivator. In every field there are people selling things about which they know very little themselves. Knowledge isn't necessarily always power, but used correctly it can certainly save you a lot of money and aggravation.
If you've written a book on coins, banknotes, collectables or history, why not consider using Rotographic as your publisher.
C H Perkins, London (page last updated November 2017)
Privacy:
Below is an outline of what information this site gathers from it's users and for what reason it is used. It applies to this website, regardless of what domain name that was used to reach it. The main URL being www.rotographic.com (others include www.rotographic.co.uk and www.rotographic.net).
When you request any page or series of pages on this website, your IP address, browser version, screen colour depth and resolution, operating system and most importantly the site you came from (if you followed a link here) are stored in a temporary log file. This information cannot be used to identify the specific individual. This information is only used for statistical purposes to help improve this site and provide accurate statistics to help me understand site usage.
Any Email addresses collected on this site, or by communication with me are not sold, or disclosed to any third parties. Under no circumstances will I use 'spam' marketing (random marketing emails to personal email addresses) to attract new visitors or to pester existing ones! Email address are only used for the purpose of responding to queries or providing you with the information you requested.
Cookies are in use on the Rotographic website mainly to remember what pages your browser has looked at and when, in order to provide you with the relevant information without duplicating pages etc, and to make things easier for you the user. The cookies are unable to find out any personal information and just identify you as one unique viewer somewhere in the world.
I conform to the requirements of the Data Protection Act, 1998.
Contact Details for Rotographic:
Postal (UK):
Rotographic, 53A Tremaine Road, London, SE20 7UA, ENGLAND
Postal (Germany):
C H Perkins, Rotographic, Hauptstr. 33, Burkhardtsdorf, 09235, GERMANY
Telephone (UK): 020 308 69996 (or mobile: 07833 112709)
Telephone (Germany): 0049 3721 265947
email: info@rotographic.com